What Our Families Are Saying
We love to hear from our Goldendoodle families, here are what a few are saying about us and/or saying about their Goldendoodles.
We bought a puppy, Brandi, almost 3 years ago she is the best!!  We have had so much fun with her.  She will be three on May 11th and I am taking her back to therapy school 😉  We went just before she turned one just to see how she would do and what we needed to work on.  Her only challenge is the separation test.  She will get there 🙂  I just thought I would touch base and let you know that Brandi is loved and is doing great.  
∼  Sheri
I cannot express enough how wonderfully happy we are with our goldendoodle and entire experience with Arizona Goldendoodles.  We knew goldendoodles to be loving and intelligent dogs but our expectations with our sweet Gunnar, were definitely surpassed.  From the beginning we noticed how caring Arizona Goldendoodles is with their puppies as they wanted to get to know us, not only to be sure their puppies were going to a good home, but also to specifically choose a puppy that would fit well into our family and lifestyle.  We were very appreciative of the jumpstart Arizona Goldendoodles gave us in caring for our puppy, including vaccine card with deworming, and suggestions for which puppy food to use, and being available and promptly responsive to questions we had the first several weeks.  Gunnar was immediately accepted into our family, including by our other dogs, and has never shown an ounce of aggression towards other dogs or with his food.  He was impressively easy to house train and eager to please us with whatever commands/tricks we taught him.  He is very social, always wanting to make new friends (human and canine).  He is playful and energetic but calms easily and loves to cuddle and be cuddled.  Throughout his first year, he was a moderately heavy shedder but has significantly decreased as he has reached maturity; and we love his thick beautiful coat.  We cannot say enough about his loving and loyal temperament and quickness to learn and be trained.  All that being said, we are in love with our goldendoodle and more than satisfied throughout experience with Arizona Goldendoodles.  I mean c'mon, who can resist his cuteness!   
∼  Lindsey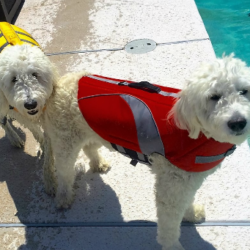 …there are Doodles, and then there are SuperHero GoldenDoodles!  Buddy and Chip are out Superheroes, and they were bred by amazing Maureen and Steve in Peoria, Arizona.  They have super powers that are a gift of the champion DNA of their super Mom and Dad.  I'm also convinced the extra Love they got as newborn puppies brings their hidden powers out!  Well done SuperBreeders at ArizonaGoldendoodles.com!  PS:  We are so happy with the joy that Buddy and Chip have brought to our world, that we are waiting for Doodle #3 (their genetically identical brother "Lucky" Louie) to join the League of Superheroes ASAP!
∼  Stuart Kozinn
Thank you!
We are so blessed to be able to help people experience the love Goldendoodles have to offer.